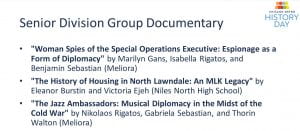 Today, the two Meliora teams who competed in Chicago History Day received news (virtually) that their documentary projects have advanced to the State competition. I am extremely proud of them, and am confident they are proud of their own work. Now, nose back to the grindstone to improve their projects in preparation for the next round.
To view the current version of their work:
Women Spies of the Special Operations Executive: Espionage as a Form of Diplomacy
The Jazz Ambassadors: Musical Diplomacy in the Midst of the Cold War
If you are particularly interested, the students would appreciate your (anonymous) feedback.